Dear Mail Art Lovers,
We have some news to share with you:)
1)  Have you been in a creative mood or still need some inspiration? Keep in mind that there are still 7 days left before we close our second challenge. This is very exciting isn't it?:)
Please look at our gallery to see the already handed in art works: mailasmile.org/gallery/
If you want to get a mention of your website/blog, please send a link to us and we will add it to our "Mail a smile supporters" list.
2) We had Eva as the winner of challenge #1 and as a reward she has received an amazing Fred amigurumi (see attached picture) and some mail a smile stickers. Each winner receives a small surprise so it is another reason to participate at each challenge, right?:)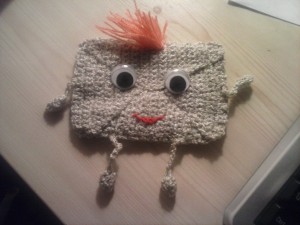 3) Do you like the cute face of our logo and patron "Fred"? See our gallery for Fred related handmade artworks here: http://mailasmile.org/fred/
If you are in a creative mood and make anything Fred related, send us a picture and we will upload it into the gallery:)
4) We are still waiting for nominations for participants. It would be really nice if we could send smiles to people in different countries everytime but we need your help in order to do so. If you know someone who needs a smile, please don't hesitate to write an e-mail to us at info@mailasmile.org
Have a wonderful week:)
Peace and Love,
Mail a smile team:)