Dear Mail Art Lovers,
This is Micu talking:)
March's challenge is very special to me as it is dedicated to my Mom and the theme for March is 'A cup of tea or coffe'. Are you ready to send some smiles to my Mom?:)
In december 2012 they have found a tumor in her left breast which turned out to be a cancer, a cancer which is quite rare called triple negative breast cancer. This type of cancer has a very high percentage of recurrence in the following three years and since this cancer is not hormon based the only preventive method is chemo therapy and some radiaton afterwords. My mom had a surgery in January 2013 but now she is facing a 6-month-chemo therapy and a few months of radiation, hoping this ugly cancer will never come back to her. She had her first chemo on February 18 and will have the next on March 11th. She has been acting really strong so far, fighting with the poison in her body with all her super powers. I know even though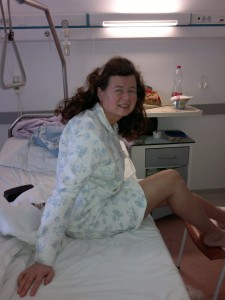 she tries to stay positive sometimes she feels scared and lonely. I have told her about the project and that we are going to send letters to her this time so it is not going to be a complete surprise to her. She speaks Hungarian, German well and a bit of English but feel free to write in English I will translate everything to her. A small hint: She collects old, used buttons and metallic chocolate paper for her crafting. So if you have some old buttons that you don't need or you had a chocolate today don't throw the paper away this time:) Thank you:)
You can check out her craftings here: melinda.park-info.hu
My mom posing like Axl Rose and me and my mom having fun with her wig.
Ready – Set – Go!
Let's get started! Now that you have been introduced to my Mom to whom we are sending smiles the next step is start creating your mail art work.
My Mom's address will be announced to everyone who signs up to our newsletter (this way only those people will have the private address who actually participate at the challenge)  so if you want to participate please sign up on the top right of the webpage or send a request to info[at]mailasmile[dot]org. If you have already signed up you will receive a newsletter soon!
Here is what you do:
Create happy mail art, and take a picture of it for us to share. The theme for this challenge is "A cup of tea or coffee", which can be freely interpreted, or if you find inspiration in something completely different: GO FOR IT!
Send the happy mail art to my Mom
Email us the picture of your happy mailart so that we can add it to our gallery!
Make sure to let us know if you want us to link back to you on any site or social media profile
This challenge will run until March 31st, 2013.
That's how simple it is to participate in spreading smiles around the world! Go create!
IMPORTANT! – Additional notes:
Please read the Terms of Services under FAQ tab!