Dear Everyone,
First of all I am (Micu) terribly sorry for this post being so late. I have faced many challenges this year and I simply wasn't in the state of mind to write. I do apologize for everyone.
Nicole was supposed to visit us in Hungary this year but things have changed so she couldn't come. I didn't want to leave her out of the exhibition as it it was our joint project so I decided it is my turn to go and visit her and her family in California.
We asked the Fountain Valley Library to host our little exhibition but it was nothing formal. I ended up going to Garden Grove, Ca in the middle of October. We walked into the
Fountain Valley Library
in Orange County on a Wednesday afternoon and started to display the postcards, letters, drawings on the top of the bookshelves. It took us about 30 minutes, then we took a few photos and the exhibition was open :D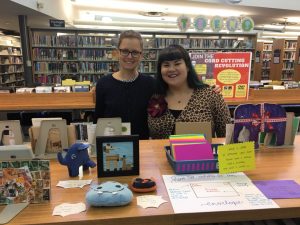 It was Nicole, her mom, two lovely librarians Zoe, Kim (they were kind enough to let us display our cards in their library, so HUGE thanks for them) and me. No crowd, no speech, no formality, no audience. I know it sounds boring to most of you but to me it was just perfect. Also Kim and Zoe were so excited about our mail-art exhibition. It warmed my heart.
Nicole had an idea so we left envelopes, papers and a note explaining how to address a letter in a hope of encouraging kids to send letters to their friends and family.
I also decided to leave all the art works in the library because they were so thrilled about it. I am happy, they are actually in a perfect place, and I do hope kids also learn a bit more about endangered animals too.
In case you happen to be around the library, please take your time and visit the exhibition:) If you are not sure if it is still there, just send me an e-mail and I keep you updated.
Thank you again for everyone who participated, we really appreciate each and every work that we received!
Lots of love,
Nicole and Micu