Eva, you are the winner of the first challenge, congrats:)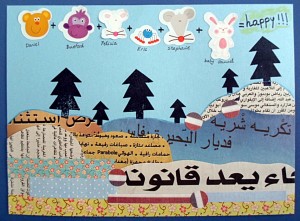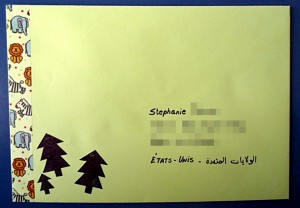 Eva's mail art for challenge#1
We think it would be awesome if you introduced yourself a bit so the fellow mailartists can get to know you a little better
Where are you from, how do you spend your days, just tell us a few words about you that you don't mind to share with us, please!
"I'm from Spain but I'm living in Morocco since last September due to my husband's job. I'm 37. I'm not working here (so far). I'm trying to adapt myself to this country, and I'm learning darija (Moroccan spoken Arabic). It takes a lot of my time, but it's not so difficult because I had been studying Standard Arabic for six years. The languages, as well as snail mail, are among my big passions."
How did you start writing letters?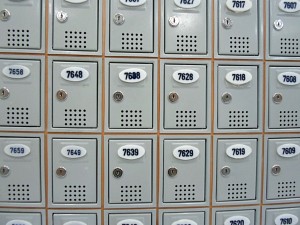 One of these is Eva's mailbox
"I started when I was 10 or eleven years old, just for fun. I found the first addresses in a magazine for kids. Those early penpals disappeared after a while. However, I keep a friend from those years. We've met several times, and she became one of my best friends; now she is living in the United Kingdom. We still send letters each other every week. So we have been penpalling for more than 25 years!"
Do you have frequent penpals at the moment or you are only participating at mail art challenges?
"Yes, I have some penpals who I exchange letters or postcard or both with. I also love to participate in mail projects as "Mail a Smile".
How did you find your actual penpals? How long have you been exchanging letters? Where are they from?
"I stopped writing letters to penpals during some years. Later, when I started to learn French (12 years ago), I thought it could be a good idea to find somebody to exchange letters in French, in order to practice the language. I found some penpals in an Internet site that doesn't exist any more (I even don't remember the name). I keep three of them, and even met onewomen in person, in Canada. Besides this, I found some penpals trough the Postcrossing site. I wrote "I'm not interested in direct swaps", but from time to time it just happens! I also run a blog about mail, and I met some people via comments.
There are people with I exchange long letters and there are some people whom I send only postcards or mail art; and still people I arrange an only swap with. So it's difficult to say how many penpals I have.
I don't count the penpals as I don't count the friends. But I can tell I write more or less regularly to people from Canada, France, Germany, Jersey, the Netherlands, Malaysia, Portugal, Spain, Taiwan and the USA. Wow, I didn't realise this is a long list of countries! And besides that I'm a postcrosser."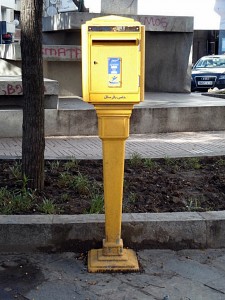 The mailbox where she posts most of her letters
How should we imagine you when you are writing a letter? Do you light candles and sit in front of a desk or you lay on the bed and have your letter set around you?
"Not so romantic! I sit in my blue desk and I have no candles but a dictionary (or the computer open), as I write (or try!) in six different languages. I usually write first the address in the envelope, and then the letter. Oh, and I usually prepare a good cup of tea before. Yes, writing every letter is a special moment for me.
I'm not picky about stationery or pens. Sometimes my friends send me nice stationery, and I'm glad to use it. And sometimes, if I feel inspired, I make or decorate the envelope myself, so I combine letters and mail art. I must say I don't like to send or receive mail art without message. The message, for me, is the important point in the mail."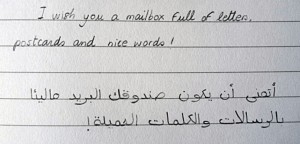 Eva's handwriting
What makes someone a good penpal according to you?
"Maybe it seems too obvious, but for me a good penpal is somebody who answers the letters. I mean who answers in a reasonable period of time and who send you a similar letter in length, in contents… Do you see what I mean? I usually difference between penpals (people I've never met in real life) and friends (people whose voice's sound I know). But there are just words. Indeed penpals are real friends and I need to feel free in their company, I need to feel I can speak about anything and they are really interested in my life, not in just getting a great amount of mail."
Are you interested in meeting new people via letters? If yes, how could someone contact you?
"I'm not exactly looking for penpals right now. Mail from Morocco is more expensive than from Spain! But I'm always open to exchanges with new nice people, or participate in mail projects. I don't like to publish my address because of spam, but if anyone is interested, you can contact me trough the blog: mailadventures.blogspot.com."
Thank you Eva, it was really interesting to get to know you a little better:)