I am really not a fan of pills but there is at least one that I have to take every morning for my thyroids…Which means more trash in our family. Isn't there a way to use the plastic packaging? There is! I don't know how I didn't think of this before. I love googly eyes:) Why should we buy when we can make our own?
1) Remove smoothly the metal lids from each hole. (we will need those tiny bits and pieces later)
2) With a wooden stick (or anything which is good for the purpose) smoothen the plastic so it is not cracked.
3) Put a small paper dot in each hole and glue a paper over it.  Make sure not to turn it over until the glue is dry unless the dot will glue to the paper.
4) I later then realized it might be more practical to put a small circle over the dot before gluing it into a bit bigger circle. This way you avoid getting the glue to the bottom of the hole.
If you have pill packaging which is not see-through, simply draw eyes on them like this.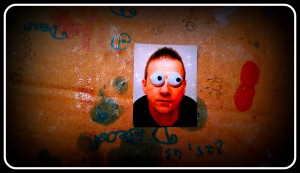 Now get the small metal bits and pieces and use it as fish squama. Send your weird animal to Heleen's, Weird Existing Animals project.