CURRENT CHALLENGE – until end of 2022
mailasmile.org
Hello everyone:)
I am opening a new mail art call. Read about mail art here. The topic is 'Time capsule'. I invite you to create a postcard which tells us, (and to the future generations) what are the things you enjoy the most in your life. I am fascinated by each and everyone's different personality. Whenever I meet someone, I always try to listen carefully, and instead of judging things that seem strange to me, or sound a bit out of the ordinary, I simply acknowledge that we are all different. Which is okay. It is okay to be different, and I am excited to hear from you:)
HERE ARE THE DETAILS: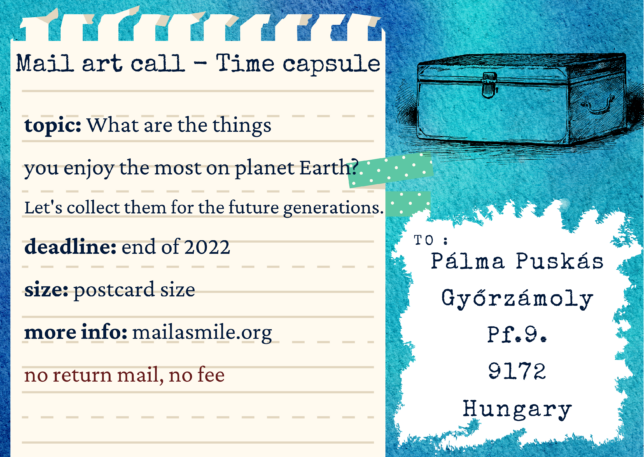 It is difficult to make exact plans during this uncertain period, but I do hope I can exhibit the postcards in 2023. If I can't make that happen, I will definitely share photos of the entries online, here on the website. In case I receive sufficient amount of postcards (around 100 pieces), I will register a proper Time capsule. The time capsule will be registered at the International Time Capsule Registry website. You can browse the map and see if there are any registered time capsules around you. Here is the home page of The International Time Capsule Society.
Thank you for participating. I am super excited to read your postcards:)
Lots of love,
micu
Mailasmile.org – Terms of Service!
By participating in Mail a smile Projects you accept and agree to be bound by the terms and provision of the TOS.
You agree to not use content/pictures on your mailart work that is unlawful, harmful, threatening, abusive, harassing, tortious, defamatory, vulgar, obscene, libelous, invasive of another's privacy, hateful, or racially, ethnically or otherwise objectionable, harms minors in any way.